The event taking the "work" out of "networking"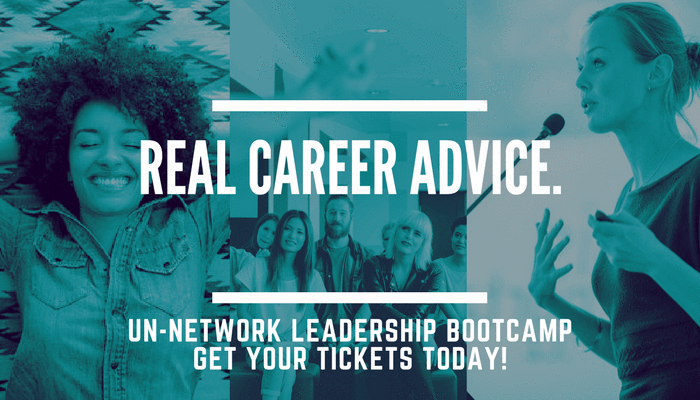 I'm getting a little tired of the stale networking events and uninspired workshops. Don't get me wrong, I know the importance of networking events and the benefits they can have on your career. I'd just like to see more authenticity and real advice given to professionals so they can spend more time succeeding, and less time spinning in circles with generic career advice. I'm not sure when networking events become 2–3 minute conversations, swapping business cards and moving onto the next person, but The Mentor Method is hosting an event to give women the opposite experience.
Introducing the Un-Networking Leadership Bootcamp
The Un-Networking Leadership Bootcamp, taking place on Saturday, July 15, is a one-day bootcamp for women who want to learn to lead with confidence, get mentoring, and leave with real tools to advance in their careers. Oftentimes you see bootcamps that cram 5-weeks worth of material into one day. The result: a massive headache, lots of questions, and you're stressed out.
We asked our members and subscribers to tell us what skills they want to learn most to be an effective leader and created a full day of real, practical advice around the highest-rated topics. The result: meaningful conversations, a deep-dive into the topics of choice, and advice specific to your career and questions.
Our goal with the Un-Networking Bootcamp
We want you to have fun. We want you to be inspired. We want you to make real connections. But most importantly, we want you to leave confident that you're capable of creating real change through your strengths and skills.
What makes this event different
On top of learning how to master your elevator pitch, negotiate like a boss, and be a champion for workplace inclusion, we're featuring our fan-favorite speed-mentoring. Similar to speed-dating, event-goers will move from table to table, getting concentrated career advice from mentors who are Vice Presidents, Directors, Managers, CEO's, and overall badasses who have mastered navigating the career landscape. We've hosted speed-mentoring events at TechUp and the Lesbians Who Tech Annual Summit. We've also partnered with Levo and Black Female Founders, where attendees ended up getting direct job leads and a real mentor they're still in touch with. At the Un-Networking event, we're bringing this same speed-mentoring straight to the professional women of DC to get concentrated career advice and answers to your most pressing questions.
At The Mentor Method, we believe in being authentic and not taming what makes you unique. That's why we're excited to announce a speaker lineup with the same values. Don't expect "I just woke up and became successful overnight" BS advice. You're way too good for that. Instead, our speakers will give you the career advice you've been waiting for. Real, useful insights on what's worked (and hasn't work) in their careers that might work for you too. The messaging will be direct, sometimes brutally honest, but always coming from a place of wanting to see you become the best possible version of yourself. Speakers include:
Janice Omadeke, CEO and Founder of The Mentor Method

Claire Wasserman, Founder of Ladies Get Paid

Shelly Bell, Founding Director of Black Girl Vision

Mia Thomas, VP, Marketing, The Mentor Method

Michelle Chang, CEO and Founder of In My Backyard (IMBY)
We're announcing more speakers over the next few weeks. To check out the full speaker lineup, visit our event page.
To apply to be a speaker or mentor during the speed-mentoring event, apply here.
Why haven't you bought a ticket yet?
The bootcamp is on Saturday, July 15 at 9am. Special thanks to iStrategyLabs for sponsoring the event space. Shoutouts to Ladies Get Paid, and Black Girl Vision for joining us on our mission to create events that suck less. Early bird tickets end June 15, so buy your ticket today!
Special note to the men reading this
Join our squad and show your support for inclusive cultures through more women in leadership positions. Share this event with your wife, sister, recent grad, girlfriend, coworker, neighbor, or any female/non-binary femme in your life that has potential to be a great leader. Feel free to buy her a ticket as a gift — flowers are overrated anyway.